The Sir William Dobell Story
William Dobell was born 1899 in Bull St, Cooks Hill, a suburb of Newcastle. He was the youngest of three brothers and three sisters.
His grandfather guided his hand drawing sketches of horses – 'they came alive on the page" he once said. The young Dobell's first job was as a window cleaner in Hunter Street, Newcastle. 
"I wasn't a very good window
cleaner and I got the sack".
He claimed not to have been very good at school as he was usually at the back of the classroom drawing and painting the entries for the whole class for the School Children's Art Competition for the Newcastle Show. 
In 1916 his father apprenticed him to Wallace Porter to become an architect. He claimed that his lack of ability in maths slowed his progress as an architect. His name can been found on the early NSW Registers of Architects and there are a number of War Memorials and buildings around Newcastle which he designed.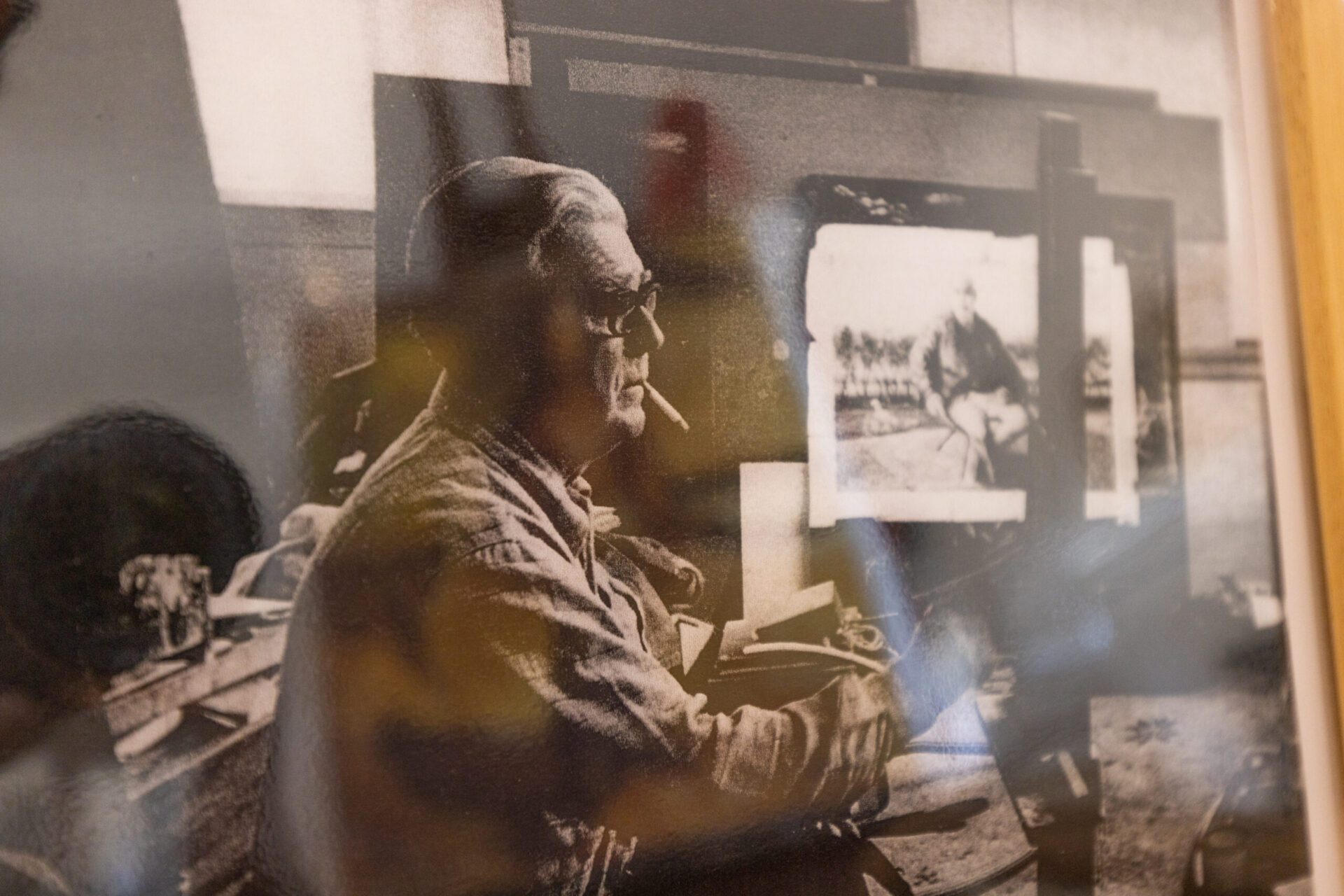 His artistic talents were recognised by the teachers although he really wanted to be a newspaper cartoonist.
In 1924, when Wallace Porter died, Dobell moved to Sydney, joined Wunderlich Ltd as a draughtsman and started night time art classes at the Julian Ashton School in the old Queen Victoria Markets in George Street. His artistic talents were recognised by the teachers although he really wanted to be a newspaper cartoonist.
At the Julian Ashton School he won 2 prizes – 3rd Prize in the State Theatre Art Comp and 1st prize for the Arts Society Travelling Scholarship. These enabled him to go to London subsequently to travel in England and Europe. He attended the renowned London Slade School of Art.
He was an observer of people and most of his London work shows this. He would sit in parks and cafes sketching people. Many of these sketches would later form the basis of his paintings. Unlike many portrait artists, Dobell did not have his subjects sit and pose for him. He would sketch them and then go back to his studio and complete the portrait. Dobell returned to Australia in 1938 when his father was extremely ill.
He met Joshua Smith and the two became great friends, when they worked with the Civil Construction Corps during World War 2, not painting battle scenes but rows of cabbages and cauliflowers on aircraft hangers and storage sheds as camouflage!
Dobell won the 1943 Archibald Prize with a painting of Joshua Smith but the decision of the judges was challenged in court.
The claim that the painting was a caricature and not a portrait. Dobell won the court case but his confidence in his art was destroyed. After the court case in 1944, Dobell came to Wangi to escape the 'notoriety' the case had brought.
When he first came to live at Wangi, he was ill, nervously exhausted and unable to paint. He also suffered from serious dermatitis. In his own words: "My sister would scoop a coal shovel full of skin from my bed each morning". He lost part sight in one eye and part use of one leg as a result of stress of the Archibald court case. As he recovered, the scenery around him took his interest and he began to do little sketches until he painted The Narrows, The Westerly Breezes and then Storm Approaching Wangi which won him the Wynne Prize for Landscape in 1948.
In 1948 Dobell and young artist Margaret Olley were both at a party given by Russell Drysdale. Margaret was wearing a fancy dress costume made from ex-war-supply parachute silk and sleeves from a friend's grandmother's wedding dress. Dobell asked if he could paint her portrait and she agreed. Olley recalled that she sat for him in his flat in Kings Cross wearing normal street clothes and an old battered hat, which she had decorated with flowers. When she saw the finished portrait, she was amazed because Dobell had not seen the fancy dress since the party. She later described it as…
"truly a magnificent work."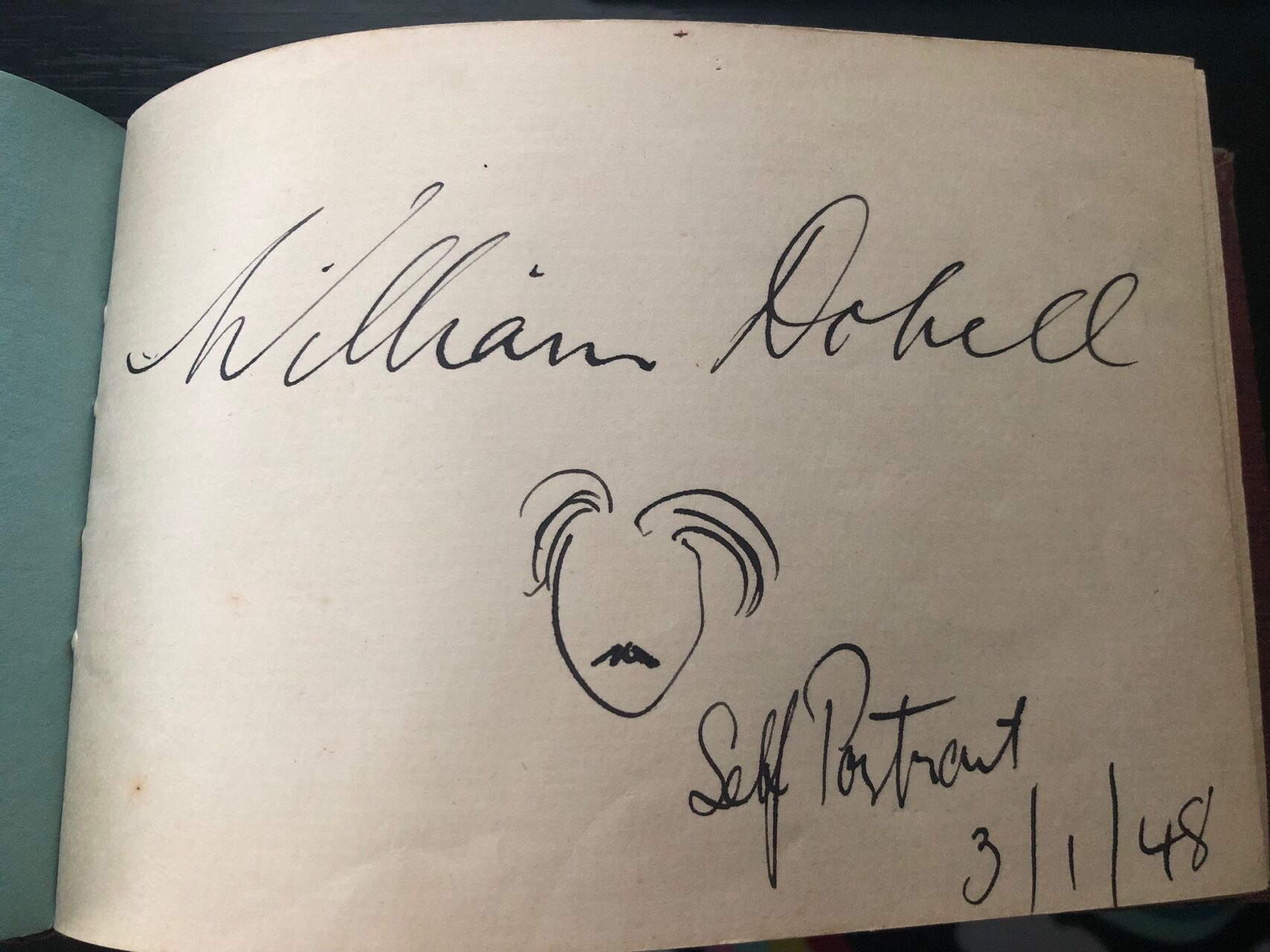 Dobell was seen running through the streets of Sydney with the still wet painting before close of entries for the 1948 Archibald Prize
Dobell was seen running through the streets of Sydney with the still wet painting to get it to the Art Gallery of NSW before the close of entries for the 1948 Archibald Prize which the portrait subsequently won for him.
In 1949 he went to New Guinea with Sir Edward Hallsrtom and fell in love with the colours and atmosphere. This began a love affair with Asia. He made two trips to New Guinea, then to Viet Nam and Hong Kong producing very different types of paintings. He always carried a sketch book which supported his work in his Wangi studio.
He was readily accepted into the community in Wangi and was neither feted nor revered – a level of acceptance he cherished. He drank at the local pub, RSL and Workers' Club as just another local, though his home was visited by many important political figures, Governors General, famous writers, artists and actors.
In 1957 Dobell was diagnosed with carcinoma of the colon. Early the next year he was operated on successfully by leading Sydney surgeon and friend Dr Edward MacMahon, with Dr Noel Newton as assisting surgeon. The portrait of Dr MacMahon, which Dobell painted as a token of his gratitude, won him the 1959 Archibald Prize. Dobell also painted a beautiful Wangi landscape for Dr Newton in appreciation of his contribution.
The Queen and the Duke of Edinburgh in 1960 commissioned Dobell to paint two works depicting Australian scenes for Windsor Castle and the result was 'Beach Carnival' and 'A Country Race Meeting.' The same year saw the first of what would be four commissions from 'Time' magazine to paint cover portraits, one of Australian prime minister Rt. Hon. R. G. Menzies. In 1961 Dobell travelled to South Vietnam to sketch president Ngo Dinh Diem for the second 'Time' portrait and then went to the 'Time' office in Hong Kong to paint it, one of the very rare times Dobell actually painted outside his studio. Cover portraits of chairman of General Motors, Frederic G. Donner and Tunku Abdul Rahman, prime minister of Malaysia followed in 1962 and 1963.
In 1964 the Art Gallery of NSW held a major retrospective of Dobell's 1929-64 work. After being awarded the Order of the British Empire (OBE) in 1965 for his outstanding contribution to portraiture, he was invested as a Knight Bachelor in 1966, becoming Sir William Dobell.
On 14 May 1970, less than six weeks after a highly successful Dobell exhibition at the Newcastle Art Gallery, local Wangi greengrocer Bill Hilton found his friend William Dobell dead on the floor of his kitchen having died of a massive heart attack the previous night.