The Sir William Dobell Memorial Committee is responsible for the collection that contains information and objects relevant to researchers and visitors alike.

The Committee acquires, conserves, researches, displays and interprets the environmental, historical and cultural material of Dobell House. The Committee undertakes scholarly research into its collection and makes this information and the collection accessible to the community.
his life, work, art
and home and studio" .
The collection of Dobell House is representative and thematic of the history of Sir William Dobell, his life, work, art and home and studio.

All objects acquired by the Committee are given the highest possible standard of care. All objects are fully documented at the time of acquisition. All objects are located in clean, environmentally stable and secure storage areas where retrieval is easy. The condition of all objects is regularly and carefully monitored. Preventative conservation practices are practised to ensure longevity of all objects. Professional conservation care or advice are sought and employed where appropriate.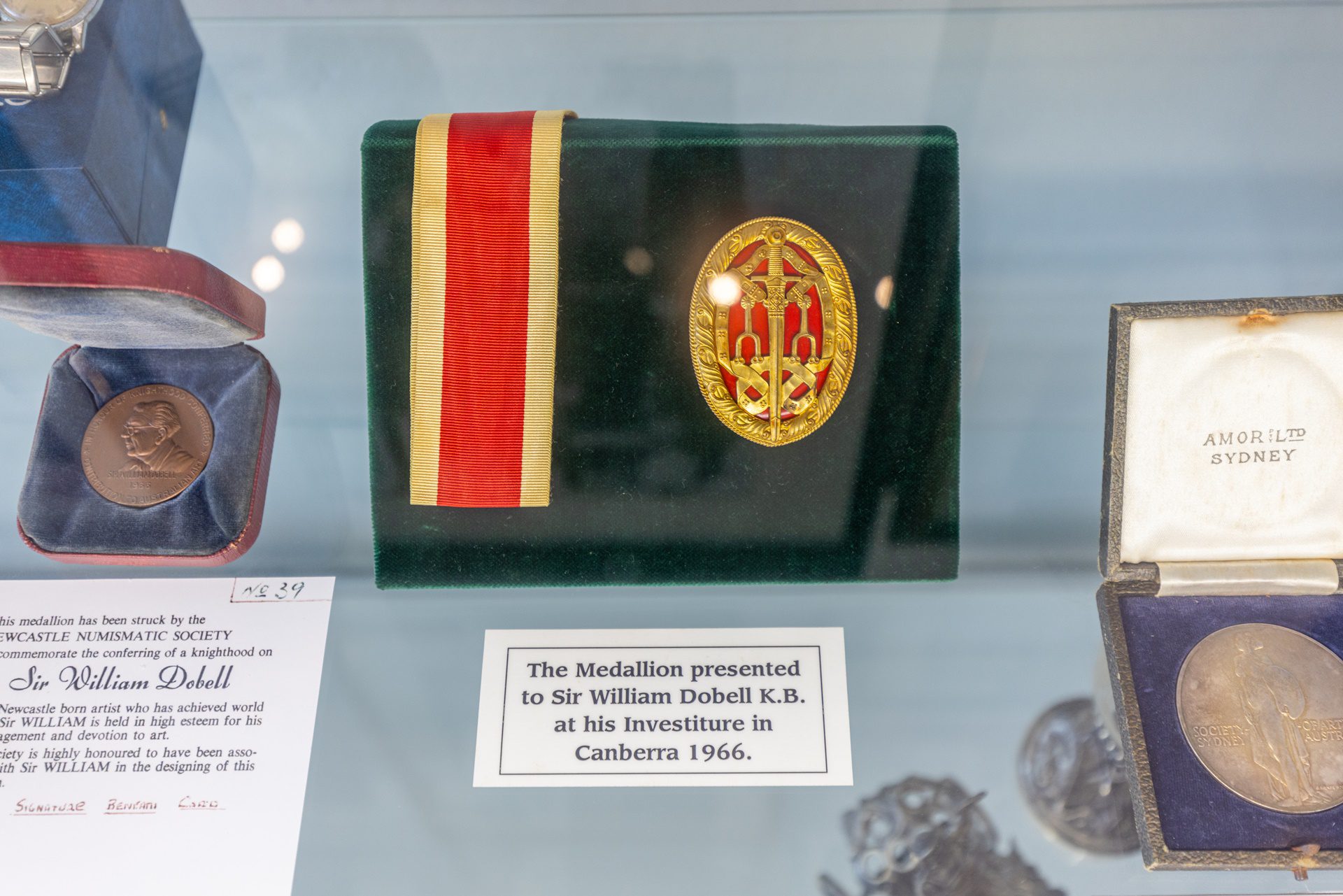 Collections of Art, Photographs, Slides, Films, Audio, Objects, Printed
Art
300 panels, mainly prints and several significant originals.
Photographs
150 frames.
Slide Collection
330 frames– taken by Dobell of Wangi, country N.S.W., New Guinea, Vietnam and Hong Kong as well as many frames recording his finished paintings. Many of the photographs were used as the basis for his paintings of overseas locations. This is the only slide collection, taken by Dobell, known to exist.
Films
5 reels – including the 1965 Qantas production about William Dobell. This is understood to be the only remaining copy. Qantas does not have a copy in their archives and there is no copy held in the National Film and Sound Archives in Canberra.
Audio
Unedited tape recording of James Gleeson's interview with William Dobell which formed the basis of his subsequent seminal book "William Dobell". His book traces the history of Dobell's art and is considered to be the definitive text on Dobell's genius.
Objects
Furniture and memorabilia – 200 pieces, including Dobell's Brinsmead grand piano which is regularly used for musical functions. Dobell was an accomplished pianist.
Dobell's Clothing – we have a number of items such as shirts, bowtie's, woollen coats & dinner suits.
Printed
450 major pieces – including scrapbooks and newspaper articles, as well as a number of rare books signed by the authors e.g. Frank Clune, Patrick White, and books on Dobell's art, now out of print.