The original 2 room weekender was built in the 1920s and was irregularly added onto over the next 40 years, first by Dobell's father, Robert and later by William Dobell, after he bought it from his father's estate in 1942 and subsequently took up residence with his eldest sister Alice.
"The original house, known
then as "Allawah".
It is thought to have been designed by Dobell while he was an apprenticed architect. It was built using sand and gravel from the foreshore and cement powder brought in by barge. It is a unique example of an original 'lake house', having been added onto numerous times, normally as extra space was needed. The many changes in floor levels are a result of the various additions over time.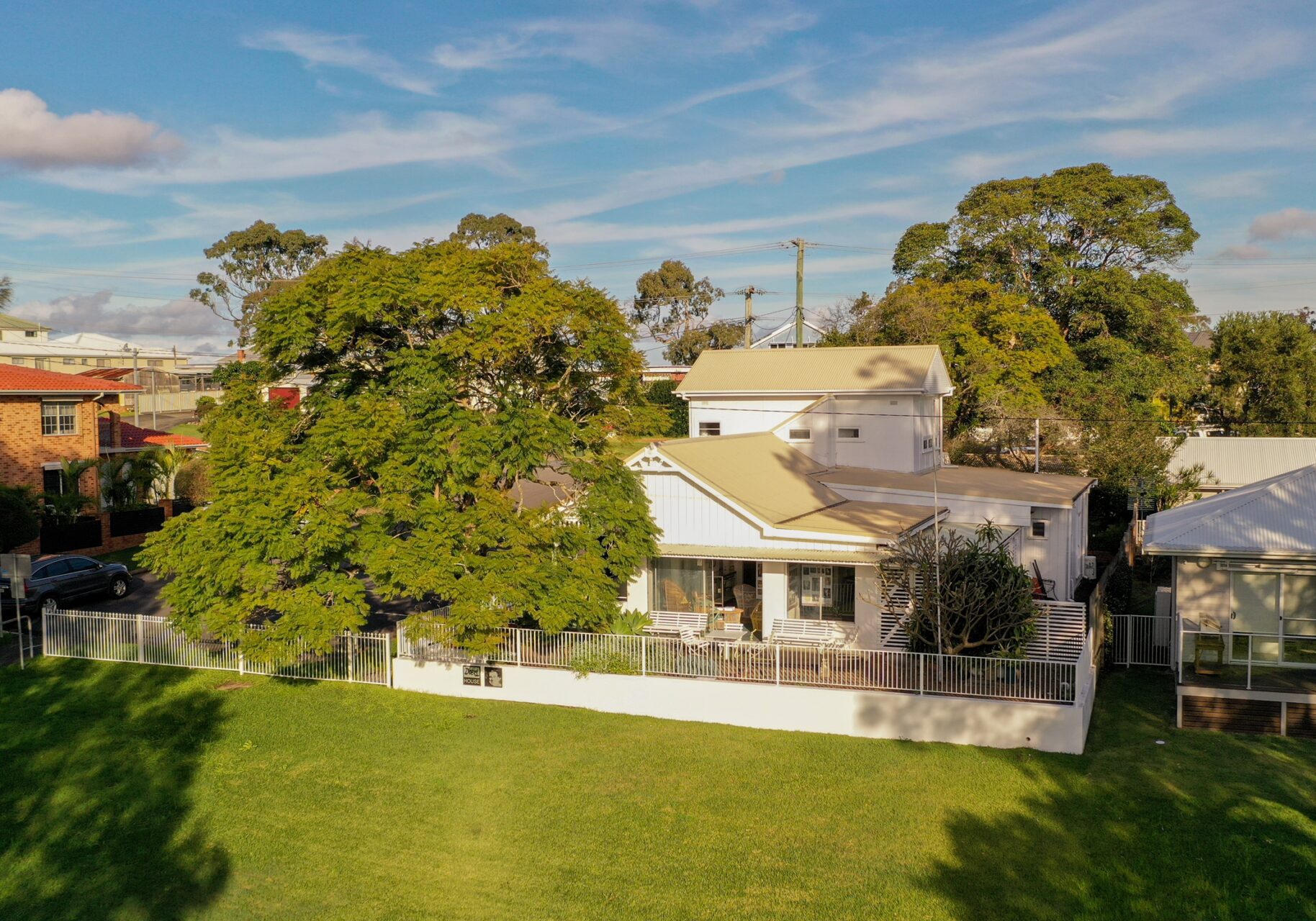 As a result of the close-knit relationship between Bill Dobell and the Wangi Wangi community, a group of residents formed the Sir William Dobell Memorial Committee soon after his death in 1970.
Money was raised to purchase the house from his estate with the vision to create a museum and gallery to honour his memory as well as providing knowledge about and understanding of his art.
The Committee purchased the building for $14,500 and the furniture and memorabilia for $50. Lady Casey, wife of the then Governor General of Australia and friend of Dobell, sent a cheque for the $50 to purchase the remaining contents. Much of this furniture, including a Brinsmead grand piano, thought to have been given to Dobell by Camille Gheysens in return for painting his portrait, and the house, have been restored by Federal, State and Local Government grants and loans.
A bank loan was raised for $10,000. This loan was paid off in just 7 years with donations and door takings, an amazing accomplishment for a small community!
Dobell House is now listed on the NSW State Heritage Register and is heritage listed on the Local Environment Plan of the Lake Macquarie Council and has been on the Register of National Estate since 1999.
1930s southern addition including kitchen.
1946 second storey studio addition.
c1958 flat roof with bituminous membrane replaced with pitched roof clad in corrugated steel; timber fencing replaced by rendered, masonry walls.
1960s western addition.
c1965 earlier steel-framed carport structure was converted to a garage, incorporating a laundry space.  A southern balcony was added to the studio.
1971-2 internal stair to studio replaced; electrical wiring and guttering renewed; and the house repainted.
1999 Studio roof replaced.
2000 Re-roofing of the house and garage; waterproofing and re-tiling of the studio balcony.
2003-4 Chemical damp-proofing of the 1925 walls.  Replacement of northern boundary wall, northern pergola and western Fernery structure.
2004 Redevelopment of the southern garden.
2008 Repainting, using original colour scheme.
2022 Report from EJE Architects on the condition of Dobell House & maintenance required